Millstone Driveway Setts
Product Description
Stonemarket Millstone Driveway Setts are a patented driveway system that have the distinct charm of traditional cobblestones and that amplify the character of traditional homes.
Coverage is 5.46m2 per pack
Each pack comes with the correct amount of jointing compound needed, negating the need for a full mortar bed that is usually required for traditional cobbles
Available in 3 colours, Bruges, Alsace and Vienna
Each sett includes the patented base, this enables Millstone Setts to be laid onto a MOT and sharp sand sub-base directly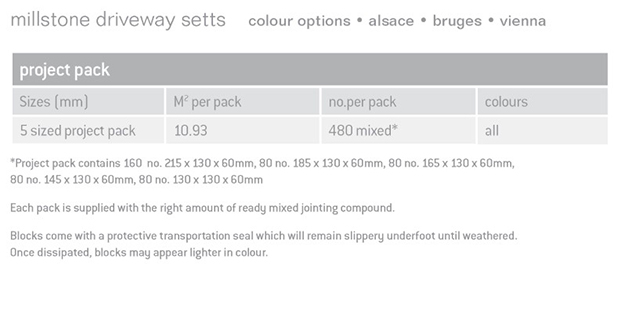 Product Prices
5.46m2 5 Size Project Pack, Alsace - £438.70 5.46m2 (240 Mixed Per Project Pack)
5.46m2 5 Size Project Pack, Bruges - £438.70 5.46m2 (240 Mixed Per Project Pack)
Need help with buying Stonemarket products?
Technical and Product Queries
If you need assistance with technical product queries, such as suitability for use in specific areas, product specification or general product advice, then please contact Marshalls Technical Advisory Team on:
Phone: 0345 302 0603
Email: sales@stonemarket.co.uk
Availability and Order Queries
If you need to ask a question relating to availability, ordering or delivery, please contact Lawsons Stonemarket on the following number or email address.
Phone: 01727 22 66 77
Email: stonemarket@lawsons.co.uk